Welcome to the Origin Mastery System!
Your rhythm skills is the foundation that all your other skills stand on. You cannot rise higher than the level of your fundamental ability to play rhythm.
Our 50 years of collective experience tells us that 99% of aspiring masters of the guitar out there is suffering from the disease of not mastering rhythm. The symptoms are always the same:
You fail to to merge your skills into one effortless playing style despite countless attempts
You have a constant feeling of being an amature guitarist and you're frustrated with it.
Despite years of practicing you still can't nail that solo and do it at the level you want
You go from being excited and inspired to hopeless and discouraged and have been for a long time.
In this course, you will learn how to captivate your audience with impeccable rhythm phrasing.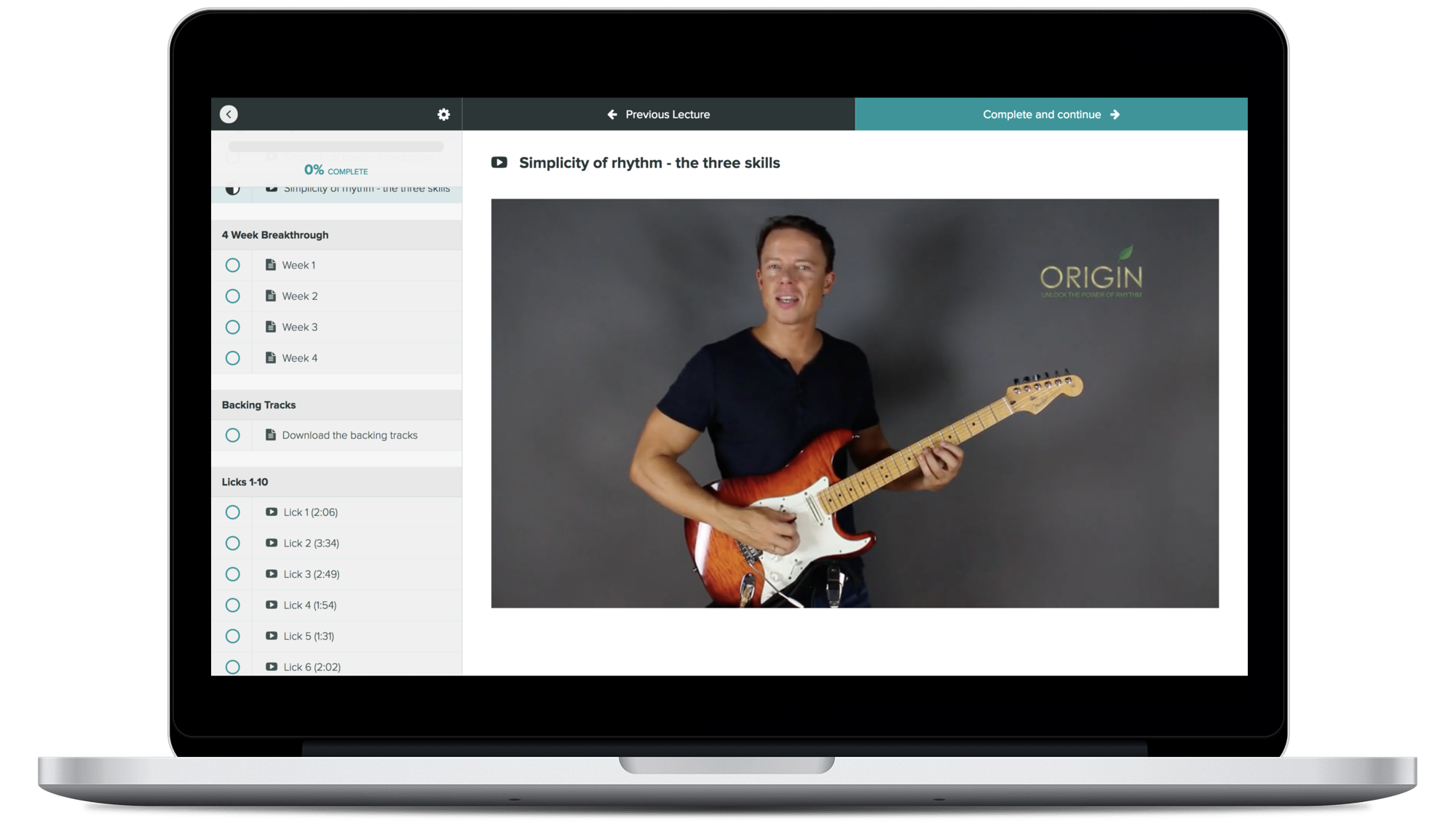 Your breakthrough is not far away
Rhythm makes up at least 50% of your skills but you can have a lot of rhythm skills and almost no "note-skills" and still sound like a pro. But if you have tons playing ability, techniques, chords and scales in place but you have poor rhythm skills, you will still sound like an absolute amature.
The exciting news is that it doesn't take very long to develop your rhythm skills to the highest level - practicing rhythm should only take up 5 to 10% of the total practice time you use to get to the playing level you want
- and with the ORIGIN system of understanding and practicing this vital skill, you will break through to mastery faster than anyone around you - guaranteed.
The solution
The ORIGIN system contains the clearest, simplest and easiest to understand layout of the rhythm challenge you have ever seen. It will make you understand exactly what the challenge consist of and how to master it extremely fast.
20 minutes into the course you will know more about rhythm and how to nail it than anyone you meet, simply because we have broken it down into the simplest of systems.
We use no notes and no traditional way of explaining rhythm, which makes this system so easy to understand that even people with no prior knowledge of music can grasp it instantly.
Once you have that unique understanding of the system, it's really easy to see how to first master the two simple building blocks of rhythm (Yes there are only two!) and how to learn to combine them at increasing levels of complexity.
The radical effective training system
The ORIGIN course does not only show you what rhythm really is and how to get to the ultimate level of mastery, it also provides you with a complete set of tools that you can use to get there.
Within the course you will find an extensive collection of play along training videos that will coach and guide you through the process. All you need to do is to put on the videos and follow the instructions and do the exercises.
Then at each new level of skill you attain you will find special rhythm focused jam tracks and meticulously designed licks that utilizes the rhythm structures you now master.
Putting your new skills to use right away is the key to making sure they stick with you.
Staying excited and passionate
You know how it often goes: You feel really excited about your new project but then as the weeks go by you fail to keep up the energy. That's the point at which most people seem to fail: Taking consistent action towards the result we want.
In the ORIGIN system we have included a four week coaching process that is going to give you new exciting insights into the world of highly effective practicing in order to push and inspire you to keep going.
Our agenda is clear: We want you to reach the point of no return. This is the point where you have been focusing intensely on developing your skills for long enough to never go back. You cannot unlearn what you master. It's not possible. If you doubt this, try becoming worse at riding a bike.
By giving you the necessary inspiration and strategies to reach this point and feeding it to you over a four week period we reach this point effortlessly - and playing guitar will not only never be the same experience, you will also keep improving in this area long after the four weeks has passed.
Backing tracks included